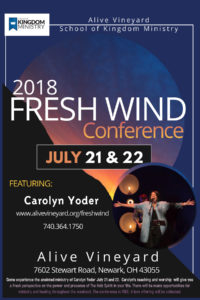 COMING JULY 21 & 22 2018!

the CONFERENCE IS free BUT A LOVE OFFERING GOING ENTIRELY TO Carolyn yODER WILL BE TAKEN AT EACH MAIN SESSION.
Pre-Conference Friday July 20th
Worship Team and leadership Session
This session will
be open for those who wish to attend, please RSVP to wade@alivevineyard.org
Evening Holy Spirit Worship @ 7PM
*Saturday's lunch WILL catered from city barbeque for $15.00/person. Click the button below TO MAKE a required RESERVATION and for more details.