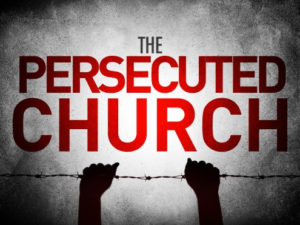 A Persecuted Church Experience
What is an escape room?
The origin of "escape games" is believed to have started in the text of John Wilson's 1988 book Behind Closed Doors but the game was initially popularized in Japan as a video game. Since its start, it has been transformed and re-imagined into real-life game simulations reinterpreted in cities across the world.
What is the story concept of "Committed?"
You and your team will be members of the underground church and tasked with figuring out various puzzles and clues to obtain information and to escape the room before being "captured." Following gameplay, you will participate in an interactive session about worldwide persecution lead by one of our staff members.
Your entire group will be required, as a condition of the ticket purchase, to stay long enough for a complete inventory of our room to be taken so that we can make sure that no props, keys, etc. are inadvertently removed from the church
. While you wait, we will debrief and give you a chance to talk about your experience. Our props are unique and we do not have duplicates. We respectfully ask that you treat them properly so that they are not damaged.
Is this scary?
Intense but not scary.
How much does this cost?
The cost is $10 per person and you can purchase tickets at the link above. (Online sales will incur a small fee assessed by the processing company)
An entire room (for up to 12 people) can be reserved for $80. Call 740-364-1750 or email wade @
for those arrangements.
How long does this take?
Please allow for 1 hour and 45 minutes to explain the rules at the beginning, play the game, and answer questions after.
What are your dates?
November 4.5.6.11.12
How does the ticketing work?
Tickets are purchased online via the BOOKING tab on our website or in person at 7602 Stewart Road, Newark, OH 43055. Online bookings are made securely through and require Credit or Debit Card information at the time of purchase. Each game has a maximum number of tickets that can be purchased for each session.
Please refer to our calendar and click an available time slot and select the number of tickets you wish to reserve in your session.
ADDITIONAL NOTE – If your group does not purchase all of the tickets for any session the extra tickets are still available to be purchased from anyone outside of your group. This means you may be paired with additional players.
May I change the time of my booking?
All changes will be accommodated based on room availability. Call 740-364-1750 or email wade @
for those arrangements.
I want to play with my friends only. What should I do?
You must reserve an entire room. If there is less than maximum capacity (12) available at the time of purchase, then another small group has already purchased tickets for that slot.
Are tickets refundable?
No. Tickets are non-refundable upon purchase.
May I purchase a ticket for someone else?
Yes, please indicate the appropriate player's name in booking information before check out.
How far out can I purchase a ticket?
Tickets are available NOW! Book early to guarantee availability.
Can I purchase all of the tickets for my group at once?
Yes. Call 740-364-1750 or email wade @
for those arrangements. We will give you a discount code that will give you the group rate at the time of check out.
Do you have a waiting list for no-shows or cancellations if the time/day I would like is unavailable?
Yes. Please call 740-258-7650 to see if we can accommodate you.
Can I use my cell phone or take pictures of my group?
No cell phones or cameras are permitted during game play. We recommend leaving your phones at home or in your car. We will provide a tray that you can place personal items in that we will secure during your game session. We greatly appreciate your cooperation in this matter,
If your group would like to take a picture following the game, we will make arrangements for that to happen.
What if I need to leave the game early?
We obviously do not really lock you in the room. You are free to exit the room through the emergency exit at any time during your game but you will not be permitted to reenter the game (this includes leaving to use the restroom).
Will there be people monitoring game play in the room?
We do monitor all game play from beginning to end. We are not physically in the room but utilize closed circuit video and audio.
What do we win if we "escape" the room?
Mostly bragging rights but we will offer silicone bracelets exclusively to those who escape within the designated time frame for a minimum $1.00 donation to a sponsoring persecuted church ministry organization.
What if I am late to my session?
You may be admitted to the room after the scheduled start time of your session but your timer will be adjusted to reflect the time lost by being late. Your team may choose to start on time if a player is running late and that player will be admitted to the game upon arrival.
Can we play the same room more than once?
Sure, but why would you want to? The experience will not change and you'll know all the secrets. For all guests, we ask that the puzzles remain a mystery to all new teams so please do not spoil the fun and share the answers with anyone.
Is there an age limit?
Yes, due to intense subject matter the suggested age to play the game is 12 years old or older. If you are under the age of 15, we
REQUIRE
that you are accompanied by an adult. The games are difficult and made to stump you so it is our requirement that players under 15 bring an adult.
I want to bring one more friend to the game but there is no ticket available. Do you sell tickets at the door or can we just fit an extra person in our group?
No. We have set the capacities for each room for the players' benefit in order to achieve the best experience for everyone. Please call if you have questions.
Is there a minimum number of players required?
No but it will be impossible to solve the room without at least 3 players.
We have a larger group than the capacity for each game. How can you accommodate us?
Within your large group you must divide into smaller groups then purchase the appropriate amount of slotted times to book back-to-back. This way, you can compete amongst each other for ultimate bragging rights. Feel free to contact us with assistance regarding large groups.
I am purchasing fewer tickets than maximum available for that room. Does that mean the remaining slots are filled by other guests?
Yes. You may be placed into a group with other guests if your team does not fill the maximum.
Is this handicap accessible?
Yes our building is ADA accessible. The room does not require climbing or physical strength to complete.
Are there any stage effects used?
Yes smoke and strobe effects may be used in the room.